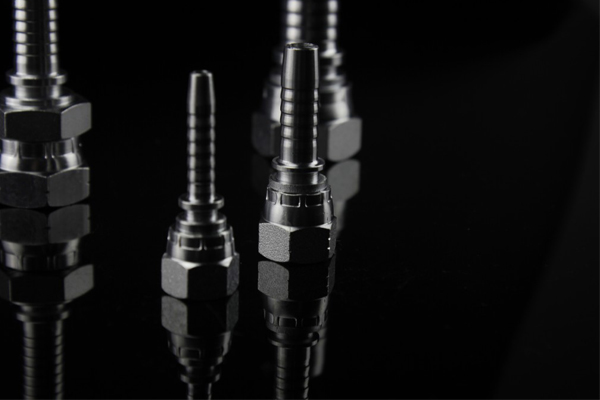 20711 fittings are GB metric female 74°cone seat types. YH manufacture complete sizes of 20711 fittings for 1/8'' to 1.1/4'' daily. But we can also provide OEM service for other sizes if required. Our fittings are finished with zinc plate treatment. Popular coatings are yellow zinc plating, white zinc plating, and chrome plating.
Details
---
Part no.: 20711(GB Metric Female 74°Cone Seat)
Material: Iron, carbon steel, stainless steel, or other required material
Standard(Specification): Winner production standard; as per drawings or samples.
Surface treatment: zinc plated, nickel plated; chrome plated; hot-dip galvanized; painting
Our features: Corrosion resistance, good color and luster, high durability, high precision, high performance.
Technische gegevens tabel
---
Tekening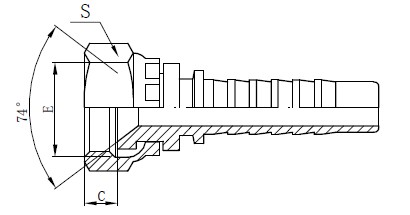 代号

DEEL NR.

螺纹 E

DRAAD E

胶管 SLANG BOOR
尺 寸 AFMETINGEN
公 称 内径 DN
标 号 DASH
C
S
20711-12-02
M12x1,5
4
02
8
17
20711-12-04
M12x1,5
6
04
8
17
20711-14-04
M14x1.5
6
04
9
19
20711-14-05
M14x1.5
8
05
9
19
20711-14-06
M14x1.5
10
06
9
19
20711-16-05
M16x1.5
8
05
9.5
22
20711-16-06
M16x1.5
10
06
9.5
22
20711-18-06
M18x1.5
10
06
9.5
24
20711-20-06
M20x1,5
10
06
10
27
20711-20-08
M22x1,5
12
08
10
27
20711-22-08
M22x1,5
12
08
9.5
27
20711-27-10
M27X1.5
16
10
10.5
32
20711-30-12
M30x1,5
20
12
12.5
36
20711-33-14
M33X2
22
14
13.5
41
20711-33-16
M33X2
25
16
13.5
41
20711-42-20
M42X2
32
20
15.5
50
1) VEEL
FERRULE voor SAE100R1AT / EN 853 1SN SLANG
FERRULE voor SAE100R1A EN 853 1ST SLANG
FERRULE voor SAE100R2AT / DIN20022 2SN SLANG
FERRULE voor SAE100R2A / EN853 2SN SLANG
FERRULE voor SAE100R1AT-R2AT, EN853 1SN-2SN en EN 857 2SC
FERRULE voor 4SP, 4SH / 10-16, R12 / 06-16 SLANG
FERRULE voor 4SH, R12 / 32 SLANG
2) BEWEGEN METRISCHE FITTINGEN
Metrische platte afdichtingsfittingen Metrische multiseale fittingen
Metrische 60 ° conische afdichtingsfittingen Metrische 74 ° conische afdichtingsfittingen
Metrische 24 ° kegel O-RING afdichting L..T. Fittingen Metrisch 24 ° Kegel O-RING afdichting HT Fittingen
Metrische standpijp rechte fittingen JIS metrische 60 ° conische afdichtingsfittingen
3) GESNEDEN BRITSE FITTINGEN
BSP O-RING afdichtingsfittingen BSP platte afdichtingsfittingen
BSP Multiseal fittingen BSP 60 ° conische afdichtingsfittingen
BSPT-fittingen JIS BSP 60 ° conische afdichtingsfittingen
4) GESNEDEN AMERIKAANSE FITTINGEN
SAE O-RING afdichtingsfittingen ORFS platte afdichtingsfittingen
NPSM 60 ° conische afdichtingsfittingen JIC 74 ° conische afdichtingsfittingen
NPT fittingen SAE Flens LT fittingen SAE Flens HT fittingen
5) STAPLELOK FITTINGEN
BANJO DUBBELE AANSLUITING SLANGFITTINGEN
6) METRISCHE ADAPTERS
Metrische schroefdraad O-RING gezichtsafdichtingsadapters
Buisadapters met metrische schroefdraad
Metrische draad 74 ° conische uitlopende buisadapters
JIS Metrische draad 60 ° kegeladapters
7) BRITSE ADAPTERS
BSP Draad 60 ° Kegeladapters
JIS BSP Draad 60 ° kegeladapters
BSPT-draadadapters
8) AMERIKAANSE ADAPTERS
ORFS-ADAPTERS JIC 74 ° conische uitlopende buisadapters
NPT-draadadapters
snelle details
---
Materiaal: Overigen
Techniek: Other
Type: Overigen
Plaats van herkomst: Zhejiang, China (vasteland)
Model Number: 20711-14-04T reusable hydraulic fittings
Brand Name: YH or OEM reusable hydraulic fittings
Verbinding: vrouwelijk
Vorm: Overigen
Head Code: Other
Product Name: reusable hydraulic fittings
THREAD E: M14X1.5
Connection method:: GB METRIC FEMALE 74° CONE SEAT
Colour:: gold
---